Women empowerment and livelihoods
Women empowerment is the main objective of SIDS. It implemented various programs of the legislations enacted to protect the rights of women so as to enable them to achieve equality in all spheres of life. The organization organize seminar/workshop/meeting each year with the semi- literate, literate and disadvantaged women who are facing greater constraints. The programs were organized to impart practical knowledge about the basic legal rights and remedies, various types of violence against women and its salvation, etc.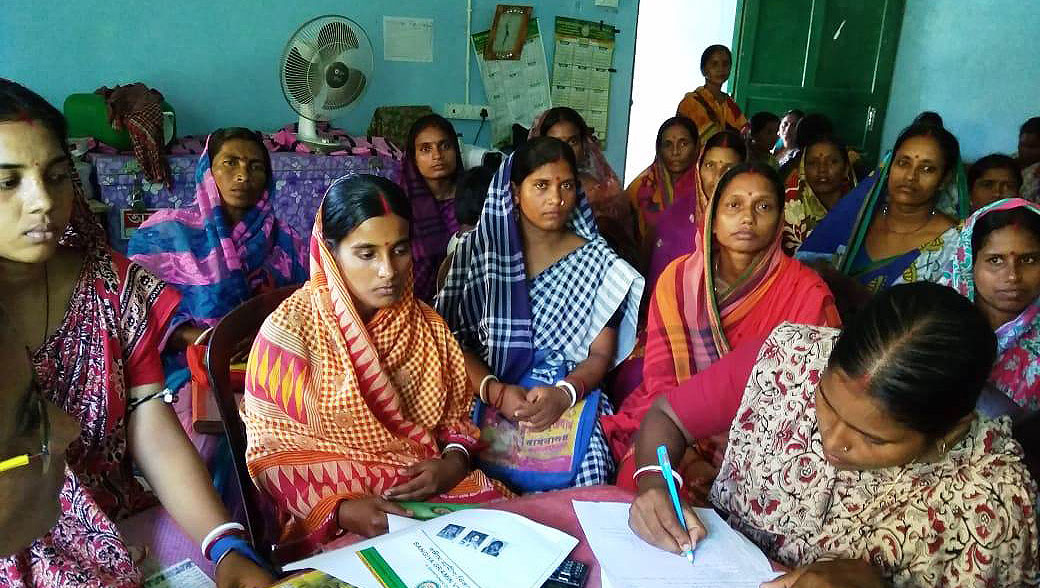 Community Health development with health education and nutritional care.
Malnutrition results from a poor diet or a lack of food. It happens when the intake of nutrients or energy is too high, too low, or poorly balanced. Under nutrition can lead to delayed growth or wasting, while a diet that provides too much food, but not necessarily balanced, leads to obesity. Poor diet may lead to a lack of vitamins, minerals and other essential substances. Too little protein can lead to Kwashiorkar symptoms of which include a distended abdomen. A lack of vitamin C can result in Scurvy. Malnutrition during childhood can lead not only to long term health problems but also to educational challenges and limited work opportunities in the future. To create awareness among mothers SIDS organized awareness camp/seminars on Nutritional Care and community health development.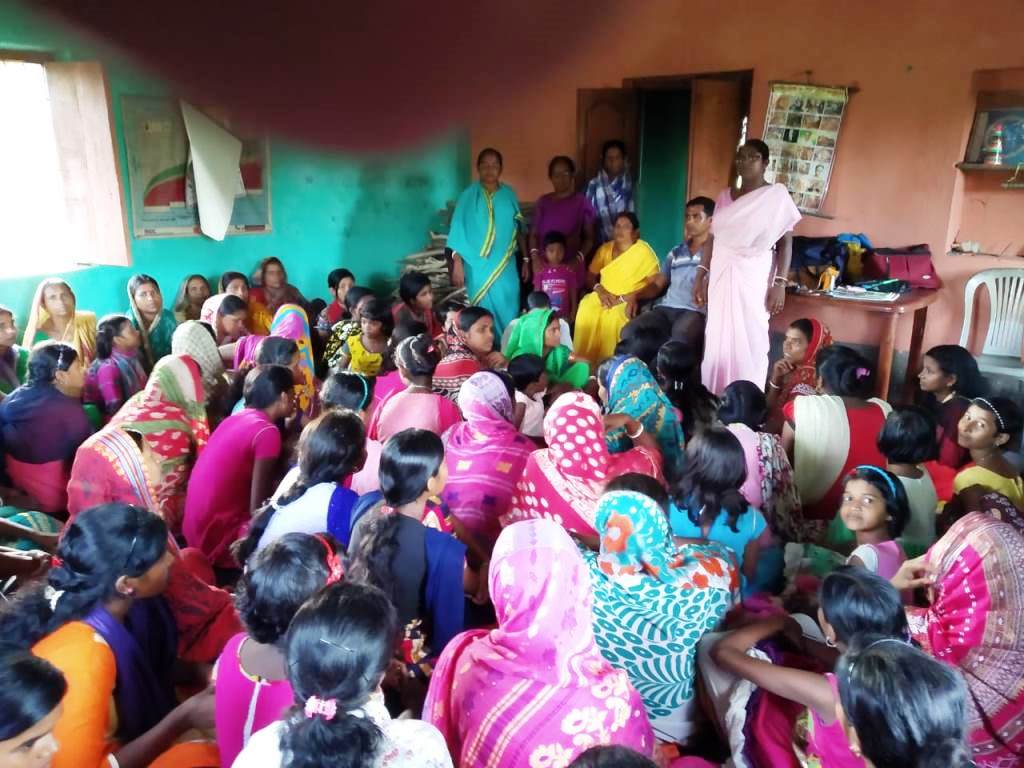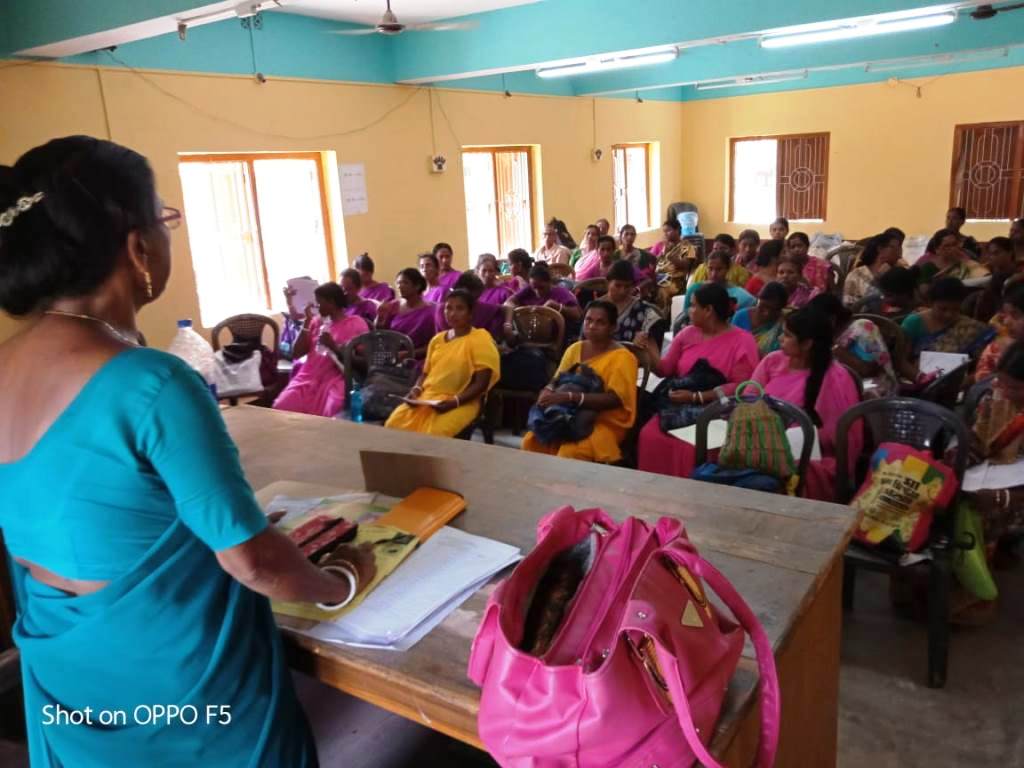 Child protection and quality education
The aims and objectives of starting the school are the holistic development of a child's social, emotional, cognitive and physical needs in order to build a solid and broad foundation for lifelong learning and wellbeing. It has also objectives to provide a rich, stimulating and caring environment in which the child feels happy, safe, secure and confident. To help all children to be happy, confident and enthusiastic learners. To enable each child to reach their full potential by fostering self- esteem and a sense of achievement. SIDS has started a Pre Primary School since June,2018. First, the enrollment number of the students was 15 in the age group 0-5 years. Seminar with the parents regarding child rights is also held.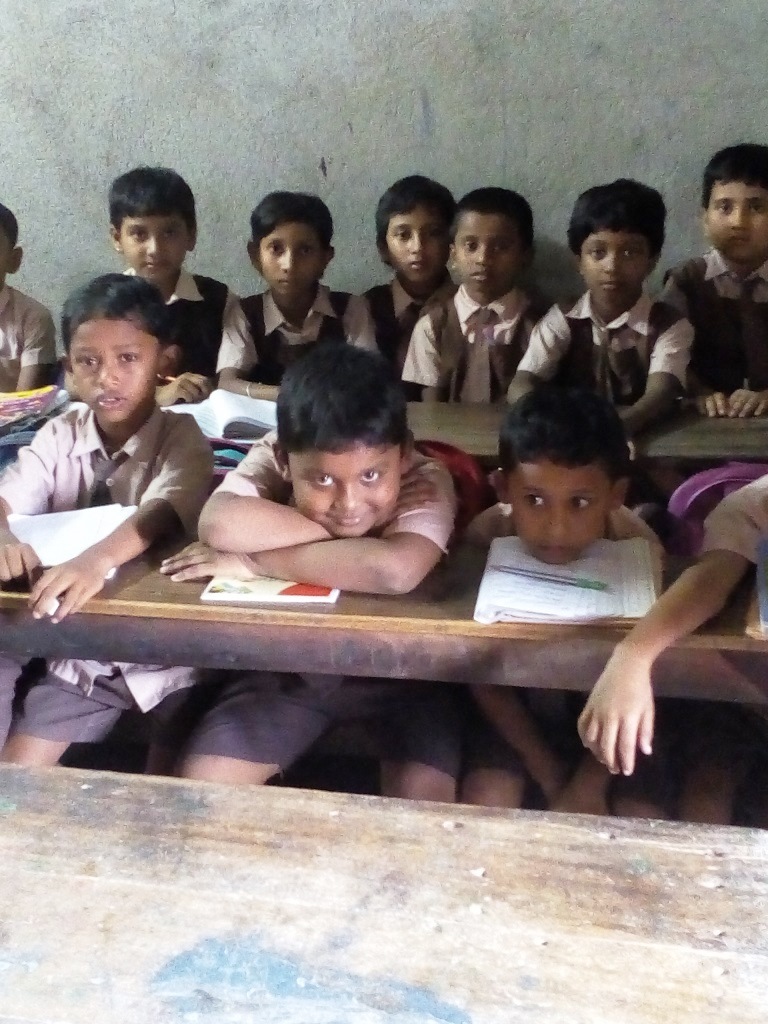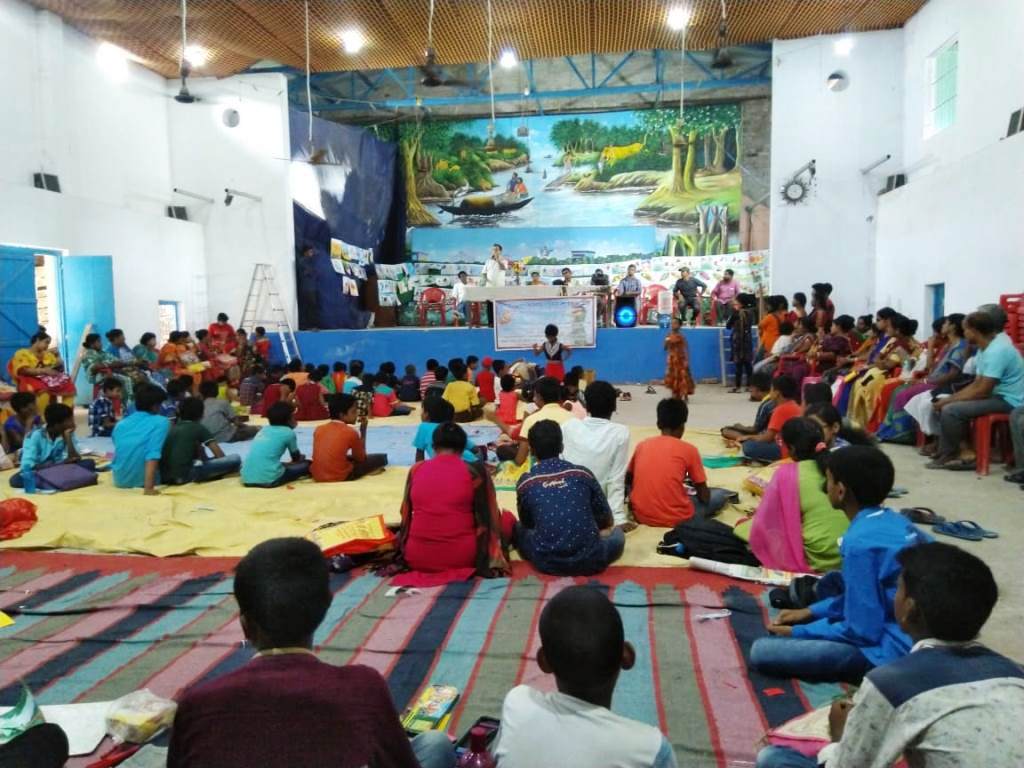 Environment protection and conservation of biological diversity
It is known to all that the Sundarban is flood prone area and the area has been crisscrossed by rivers. According to the International Union for Conservation of Nature about one third of all known species in world are threatened with extinction. SIDS organizes Seminar/workshop/Training/Rally/Awareness camp each year with the local youths, Panchayat representatives, students, SGSY groups and local elite persons. The aims of the Seminar were to aware the local responsible persons regarding clean environment, importance of the existence of mangrove eco-system and conservation of biological diversity and their symbiotic relationship with men and animal.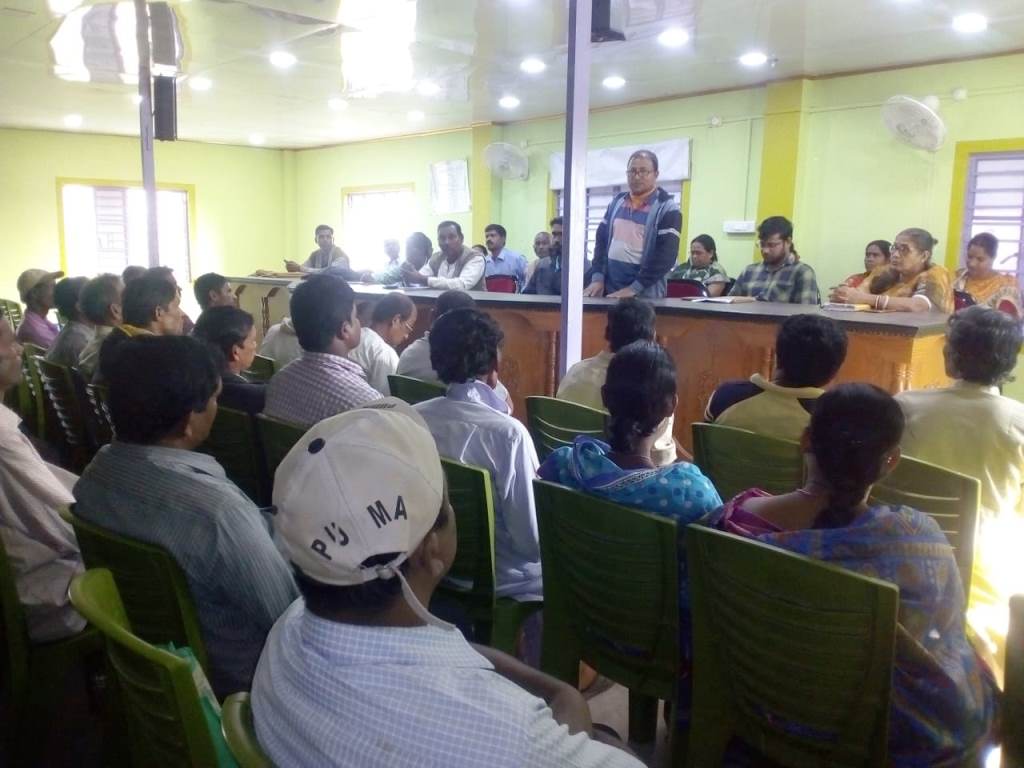 Water Resource Management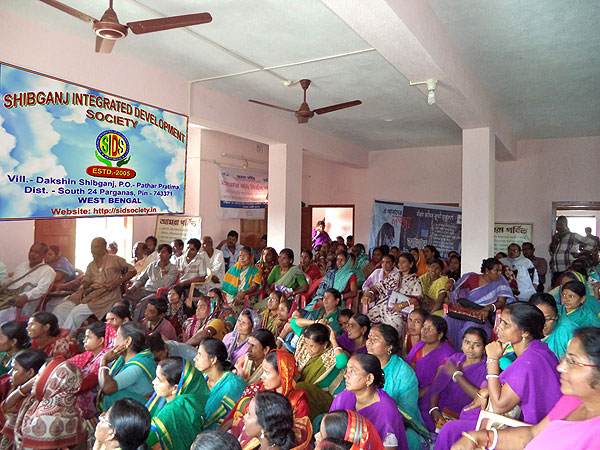 Water Resource Management is the process of planning, developing and managing water resources. Water Resource Management also entails managing water related risks, Including flood, droughts and contamination. Water scarcity affects more than 40% of the global population. Water related disasters account for 70% of all deaths related to disasters. Proper utilization of water in our homes too can save the precious resource. Water management teaches us to use a limited amount of water whenever required. SIDS implemented various programs in Water Resource Management. Reputed cultivators, Panchayat representatives, local elite persons, Social activists, Youths and representatives of women organizations participate in the various programs water resource management.
Ration distribution among Coronavirus affected households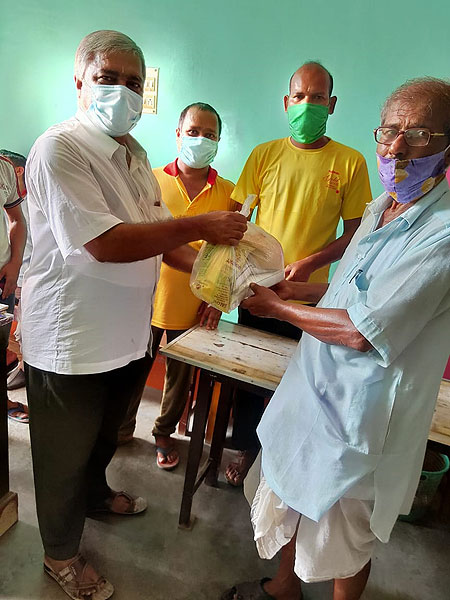 Coronavirus disease (COVID-19) is an infectious disease. Coronavirus are a large family of viruses which may cause illness in humans and animals. It has rapidly spread in the world. The poor families of this area have no basic ideas regarding prevention of Coronavirus disease. The laborers of the poor families go to other states and other countries like Saudi Arab, Katar for regular jobs. Many go to other districts like Burdwan, Hooghly, Jalpaiguri for working at cold storages, rice mills, etc. After declaration of lock down by the Govt. the laborers came back to their houses and then the Coronavirus disease is rapidly increasing in the target area.
Door to door visit by the volunteers for creating awareness among the people and maiking announcement is also done in the target villages. Masks, sanitizer and soap distributed among the poor families for increasing their habits. Rice, flour, etc. were distributed among jobless poor families but affected by Coronavirus.
Relief distribution among AMPHAN affected families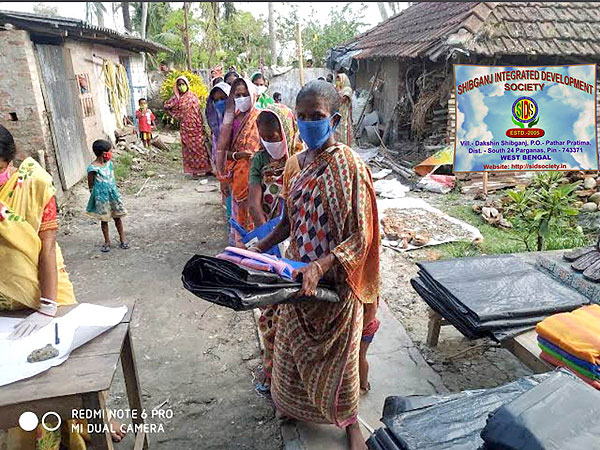 The Sundarban has seriously been affected by the cyclonic storm AMPHAN. The people of this area are dependable on agriculture, fishery, daily labor, etc. Due to cyclonic storm, agricultural field and fishery have been damaged by the overflowing of saline water and the houses of the poor families have been fully destroyed. SIDS distributed Tarpaulins, Dhutis, Sarees, Rice, Flour, Musur dal and Edible oil among the affected very poor families in a few village. The members of the organization collected the money from the donors as donation. Local people helped the organization for relief distribution.
Installation of tube well for safe drinking water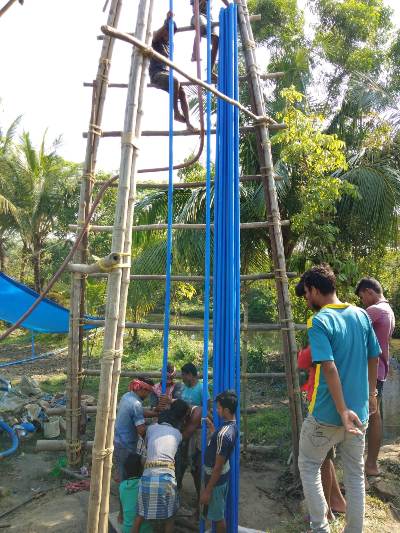 Scarcity of safe drinking water in the villages is acute. The existing tube wells are very distance. There are about 23 households in the surrounding area of the proposed point. The families of the area go to fetch drinking water about ¾ k. m. and ½ k.m. in distance. The people are to depend on pond or tank water for drinking and domestic use. But an essential component of primary health care is clean water. Clean water is vital to our health, communities and economy. People depend on clean water for their health.
As per need of the local people, the organization installed one tube well near the house of TapanGiri at DakshinLaksnminarayanpur village from both the own fund of the organization and contribution of the villagers.
Expected result:
Cent percent people surrounding the tube well will get safe drinking water.
Overall health status of the target community and students will be developed and water borne diseases will be controlled.
Habits to use of safer water among people will be increased and malnutrition among children will be controlled.
Seminar on Consumer protection act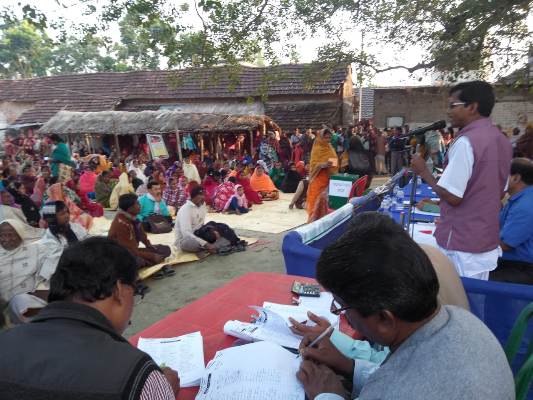 Unfair practices are widely prevalent in our society in all walks of life. To control all these unfair practices, the Govt. of India has sought to combat the social evils through a service of acts such is the Food adulteration act, the weights and measures act, Prevention of block marketing act, Consumer protection act, etc. The consumer of all levels specially the poor villagers are the most sufferers and become sometimes victims.
As a responsible social development organization, SIDS feels that it is our duty to protect the consumers from the mal practices adopted by the traders. To create awareness among the consumers regarding their rights, SIDS organized one day awareness camp at Kishorinagar Flood shelter.
Outcome of the program:
70 persons directly award regarding Consume protection act
Participants will inspire other people about this act.
Consumers will be protected from adulterated goods and mal practices of the sellers.
Vocational training on Carpentry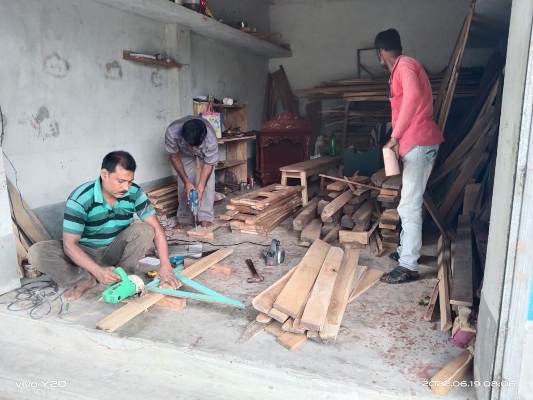 One of the salient features of SIDS is to create income generation opportunities for the unemployed poor youths. SIDS organized a vocational training on Carpentry with eight poor youths for three months. The main objective of this training was to create a basic knowledge among the youths and to create interest in this vocational training.
Throughout ancient history until our modern era, every civilization in the world has used wood to create useful as well as beautiful and decorative objects.Woodworking, in fact, was one of humankind's first skills. After training, the carpenters will install the doors, windows, flooring, roofs and almost every other wood component of a structure. A six –month course is required to make furniture. Due to lack of funds it was not possible for us to do this training.
Impact of the program:
8 Nos. of poor youths gained skills.
6 Nos. of youths started the work as professional for livelihood.
Relief materials distribution among YAAS affected families
One of SIDS's main objectives is to stand by flood victims and provide relief. Recently, YAAS cyclone has swept over the Sundarbans. PatharPratima block under Sundarbans has been seriously affected by the storm. This time, as every time, SIDS stood by the flood victims and distributed relief items to the flood victims as much as they could. The organization distributed ration ( Rice, Flour, mustard oil and Musur dal) and tarpaulins to the victims of Rakshaskhali and Gangapur villages under PatharPratima block.
Construction of toilet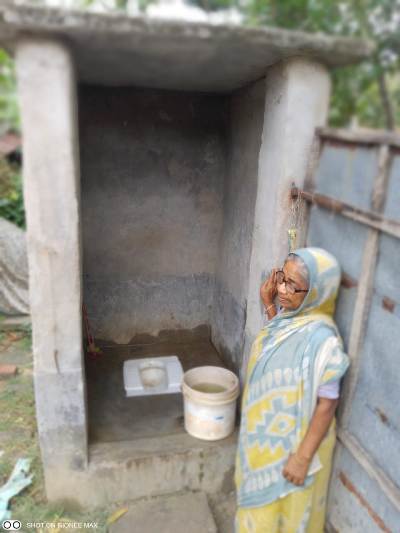 The overall purpose of good sanitation is to provide a healthy living environment for everyone, protect the natural resources such as surface water, ground water and soil and provide safety, security and dignity for people. Using toilets prevents germs from getting into the environment and protects the health of the whole community. Good sanitation would not prevent infections without practicing good hygiene. A simple habit of washing hands goes a long way towards preventing diseases.
SIDS constructed three nos. of individuals' toilets during this financial year at Dakshin Laxminarayanpur village. The fund collected from the donor persons and has expended properly for that purpose.
Awareness camp on COVID-19 and ration distribution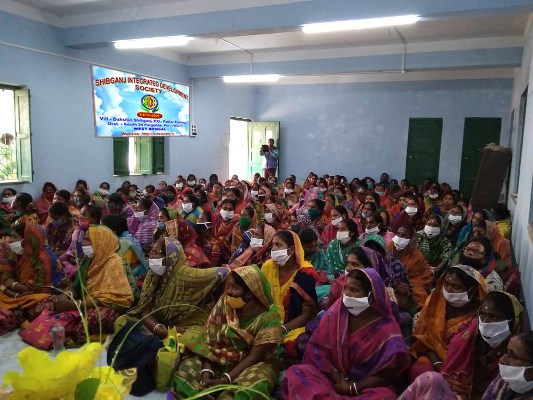 The people of the project area are very poor and the poor families have no source of income without labour. So the labourers of about each family go to other states and countries for regular jobs. During lock down period they have come back at their houses. During this period there is no huge works for them. The poor families who have no other source of income are suffering from food problems and they have no capability to purchase masks, sanitizer etc. for preventive measures. SIDS engaged Health Workers for six villages to aware the people door to door and distributed sanitizers, soap and masks. The announcements by sound system and poster campaign lasted for several months. The organization also distributed rice, flour and mustard oil among the Coronavirus affected persons. Like last year during the year 2021-22 SIDS played a major role in the COVID-19 programs.
Impact of the program:
The incidence of Coronavirus was reduced by 80 percent in six villages.
The Coronavirus affected persons were protected through the distribution of relief
Implementing various events on Road safety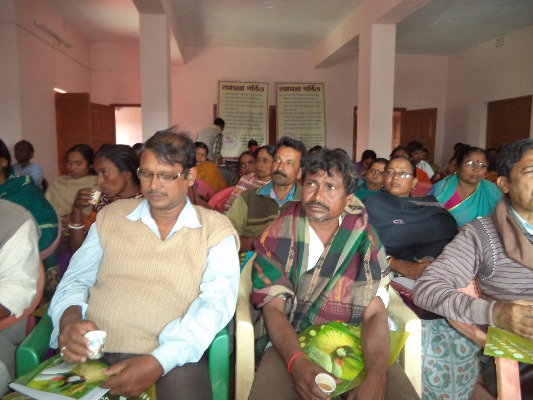 Shibganj Integrated Development Society (SIDS) has been implementing various types of awareness programs on Road safety during last two years. In the year 2021-22, SIDS has implemented various programs on Road safety. The theme of the year's National Road Safety Week is "Road Safety-JeevanRaksha". Considering the seriousness of Road Safety Week, SIDS organized various programs such as webinar, quiz contest, distribution of Road Safety leaflets, drawing competitions and slogan writing contest so that people follow the safety rules set by Govt. for vehicle safety on the road and also to keep yourself and your loved one's safe. All these programs are organized to develop a positive attitude towards the people to walk and drive safely on the roads.
Expected result of the programs:
Awareness will be increased among the people regarding road safety.
Road accidents have been reduced in the project area.
There is a tendency among the people to comply with Road safety laws.
Pre-Primary school for coastal poor infants
Early childhood care and education is more than preparation for Primary school. Most of the poor parents in our rural area who cannot fulfill the basic needs of their children, generally do not want to send their children to school. A survey in the school surrounding area was done by the members of SIDS and it is observed by the members that the students in the primary level have the tendency to drop out. The organization closely follows up this process and motivates their parents to continue sending their children to school. The organization follows up and tries to help the children so that they can continue their studies.
The school is managed by 2 teachers and mother group of target children. School dress, books and educational materials are provided to the children. Experienced A.N.M. visit the centre at least twice a month for health checkup and growth monitoring of the children. Toys and pictures are used to make them interesting. The teaching methods like learning in playing, learning in doing, storytelling, use of IEC materials like posters, charts, pictorial, etc. are followed. SIDS gives special thrust upon their character building. Apart from education the children get scope to participate in various cultural activities, competition, sports and games, etc.
Outcome of the project:
42 coastal poor children are continuing their education continuously.
All the skills including education have increased among the children.
The attitude has been created among the guardians to send their children to school.
Webinar and meeting on Child trafficking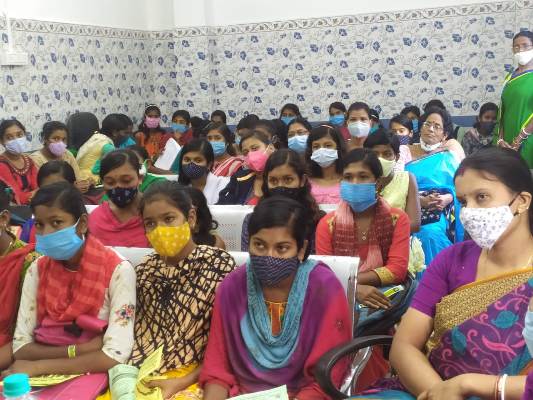 Child trafficking is an issue that is extremely prevalent in India and it is continuing grow rapidly. The trafficking of young girls under the age of 18 has grown over the last decades according to the National Crime Record Bureau. These have been numerous reports about the increase of trafficking of children in the Sundarbans. In some cases, children are taken from their homes to be bought and sold in the market. In other cases, children are tricked into the hands of traffickers by being presented an opportunity for a job. Mainly children are trafficked into the Sundarbans for various reasons such as labour, begging and sexual exploitation. Some of the root causes of child trafficking in Sundarbans are poverty, lack of education and the need to financially support their family, when children are offered work.
Action against child trafficking in India is being taken at many levels. Any gaps in the implementation of schemes and laws are largely filled in by NGOs that work to address different aspects of this issue. SIDS organized awareness programs to aware the common people especially women and women with children in the islands areas about child trafficking.