Kumari Nabanita Das D/o Arun Das is a student of class-X and resident of DK. Lakshminarayanpur village. She comes of a very poor family and her father is separated and residing in another place. Tapati and her sister with mother live in a body. When SIDS initiated personal meeting with the adolescent girls for participating in a seminar on Health Education for adolescents she was shy and inexpressive, hesitant and lacked confidence. After several times meeting with her she came in the seminar.
After participating in the seminar she knew about sanitary napkins and their advantages over traditional methods. Moreover she learnt adolescence is a beautiful period of life and menstruation is a phenomenon unique to all females. It is a natural process. It is linked with several misconceptions and practices which sometimes result into adverse health outcomes. She is now motivated and accustomed to use sanitary napkins. Gradually she has started participating in the discussions with the other girls and women. She moved on to help these girls and women and introduced them to sanitary napkins. Her efforts were highly appreciated by the women in the locality. She is continuing her efforts to make more aware about this issue by devoting more time and efforts towards this social cause.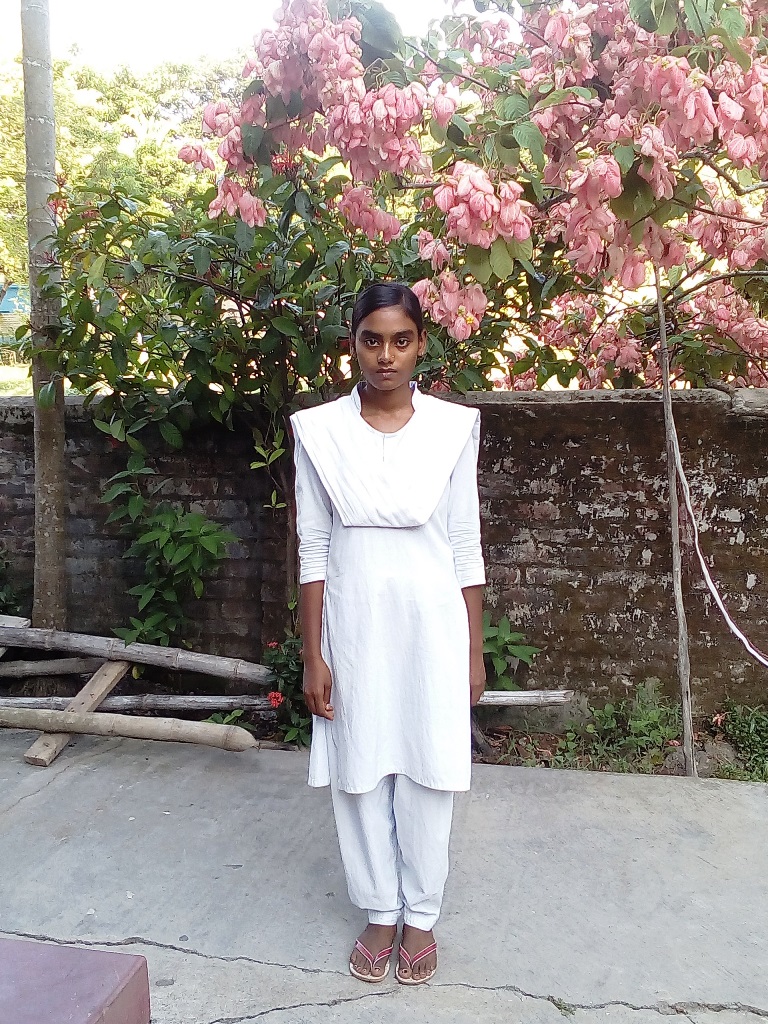 Amita Khatua is a 19 years old girl and she stopped going to school after IX class and was not doing anything after 2019. Her mother is a house wife and father works as a day labor. Her father has no ability to do hard work. We encourage Amita to continue her studies and also learns some skills which can help her earn living for live. She joined our training class on tailoring. She learnt cutting, stitching very quickly and now she can stitch various ladies clothes. Originally she is from a village Durgagobindapur under Pathar Pratima bloc. She has five family members. Her parents are very happy that she will now continue her studies and also learning skills for live. Amita also learnt bag stitching after completing basic tailoring classes and has been stitching different types of bags.
She worked as a maid to contribute to the family's income. Later she worked as a tailor. She gained steady clients and experience as a good tailor. Subsequently, with her tailoring experience, she started a shop at Pathar Pratima market. She not only learned to stand on her own feet but also helped three others women stand on their by working with her in her bag making business.
She joined a Shelf Help Group. As a member of SHG she received loan for starting her business and her group approved much money by her name for her experience in tailoring and bag making works. She is role model to her group and to the community. She earn Rs 12000.00 to 13000.00 per month excluding others expenditure. Now her family is solvent. Other group members in that village were inspired by the works of Amita devi. The group members are requesting to the authorities of the organization to organize various types of vocational training for the poor women in rural area. The social status of the family of Amita Devi has been increased Gradually, her mother is trying to involve herself in the business with her daughter. Quality of the making product is very good. The consumers are trying to buy the products from her shop. We say, "Women empowerment" that will come in this way and the rural women will be self- sufficient during the period of economic crisis.